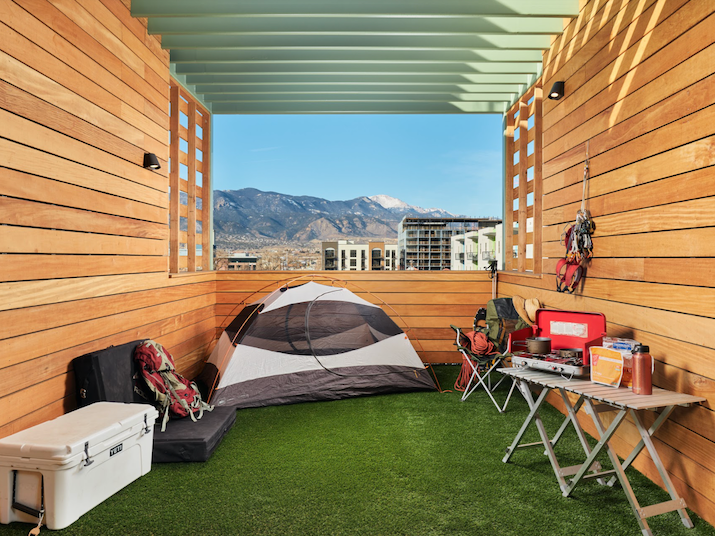 Camp Deck
Urban camping in the heart of Downtown Colorado Springs!
Urban camping in the heart of Downtown Colorado Springs for up to six people!
GEAR PICTURED NOT INCLUDED.
We have one camping room at Kinship Landing!
The camping room is just that: your own personal campsite. The best part about camping here? Unlike the wilderness, this room includes a private three piece bathroom with sink, shower, toilet and soft Brooklinen towels. Four stories up, this camp spot provides great views of Pikes Peak, Cheyenne Mountain, and the Front Range. Bring your own camping gear!
*GEAR PICTURED NOT INCLUDED.
Room Features:
Flat turf camping area. Bring your own sleeping gear.
Use private restroom included in rate
Bathroom: Private toilet + sink + walk-in shower
Keyless entry
Mountain View
Hammock hanging hooks - Hammocks available for rent.
Bluetooth speaker system
ADA
Available to rent as a meeting space - contact events@kinshiplanding.com for detail.
Camping Room FAQ:
Q: How many camp spots do you have?
A: We have one (1) camping room! This room accommodates one (1) private party of up to 6 people. As many tents as a group of 6 feel comfortable using can be used on that camp room.
Q: What if it rains or I get cold?
A: What if you were camping in the mountains far from civilization? Prepare like you would for that. This is an outdoor camp spot! There is a small area that is covered with an overhang/roof as well as an indoor bathroom.
Q: How much is it?
A: A night in the Camp Room will cost ya $89/night + tax!
Q: How many people are allowed?
A: 6 adult guests are allowed and up to 2 children under two. People under 18 must be accompanied by an adult.
Q: What if I feel lost, hungry, lonely, or afraid?
A: You can text us, but remember unlike in the Weminuche Wilderness, you have access to our first floor full bar and cafe by simply descending 40 vertical feet via a class 2 staircase.
Q: Does this include a bed, warm sleeping stuff, a tent, teddy bear, or any other gear?
A: No. You should prepare to bring everything you need to be comfortable in the great outdoors. Any images of the camp deck including gear you may have seen are simply a snapshot of others having a great time using their own gear. Earplugs available by request.
Q: Okay, so what does it include?
A: Bluetooth speaker connection, a flat turf camping surface (considered winning the lottery in many camping areas), heated bathroom with sink, shower, and toilet, towels, soap, running water, views of Pikes Peak and the Front Range, the chance to make an epic memory and live to tell the tale, fresh air, contactless entry, bear free zone, door lock.
Q: Can I rent gear?
A: We currently only have hammocks available for rent, but in the very near future you will be able to rent a fleet of gear. At this time and you will need to provide your own gear - this is a great way to practice setting up your own gear before heading out into the wilderness.
Q: Are there any other fees?
A: If you leave it yucky, a $50 cleaning fee will be applied. We follow strict Leave No Trace principals so consider it great practice enjoying the backcountry responsibly.
Q: Are pets allowed?
A: No. This is part of what helps keep this camp spot pristine. But furry canine friends are welcome in some guest rooms!