Get Outdoors
The trails, rocks & rivers are calling!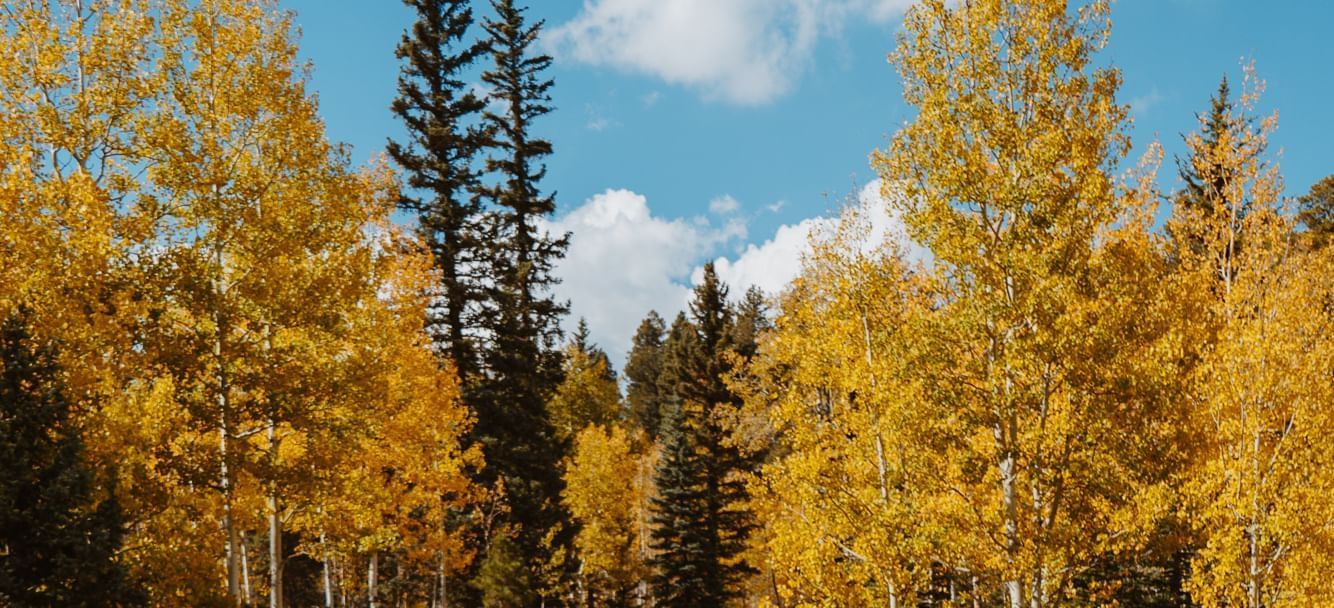 Leaf Peeping
There's no denying that Colorado springs is one of the best places to experience fall color. From quaking aspens to crisp, autumn air, there are so many iconic places to take in the gold rush. Whether it's by rail, foot or two wheels, traveling to Colorado Springs for autumn should definitely be on your fall bucket list.
Leaf peepin' by Rail
The Cog:
Relax in a bright red cable car as you travel up Pikes Peak and take in autumn views of the Collegiate and Sangre de Cristo mountain ranges, Continental Divide and Cripple Creek.
Cripple Creek and Victor Railroad:
Cripple Creek is one of the most iconic places to soak in the sparkling aspen trees. A trip on this railroad allows you to take in the scenic wonders of every curve and learn about the gold mining days.
Royal Gorge Route Railroad:
Ride and dine along the Royal Gorge river, surrounded by cascading canyon rock formations. Treat yourself to a delicious dinner on this scenic train ride.
Fall Colors by Foot:
Mueller State Park:
This state park is not one to be missed during prime leaf peeping. Sparkling aspens, pine-scented forests and wildlife surround your journey into the fall foliage. This park is especially great for families, as there are plenty of trails to suit every level of adventurer.
Pancake Rocks:
A classic ⁠place to see the fall foliage, travel up moderate to difficult pine-shaded switchbacks that lead you sweeping view of golden aspens. ⁠This hike is iconic - so bring a group of friends so you can have a photographer.
The Crags:
Leaf peeping galore. The Crags is a perfect trail to see all those different shades of orange. On the way to the granite dome, you'll pass quaking aspens, red rocks, creeks, wildflowers, tall pines and more. Only about 5 miles round trip, this is a perfect hike for locals and out-of-town travelers.
Vindicator Valley Trailhead:
Mining Industry guru's unite! This trail loops around old closed gold mines and offers a dazzling display of fall colors. Only 2 miles and 341 ft of elevation gain, this trail is perfect for groups and families.
Autumn action by Two Wheels:
Gold Camp Road
We recommend using Pikes Peak Bike Tours for a historical 1800s locomotive railway trail through the Colorado Springs wilderness.
North Catamount Reservoir
This 12 mile loop offers scenic views of Pikes Peak, pine and aspen forests from the North Slope Recreation area, and a sparkling reservoir that reflects the fall foliage.
Rampart Reservoir
This ride is an excellent option for mountain bikers of all skill levels. A season favorite for all riders, your ride will include winding through unique rock formations, quaking aspens and a scenic reservoir.
-------------
Ready to take in the fall colors in the Colorado Springs and Pikes Peak region? Grab the crew, book your retreat or just reserve a single bed and get ready for an epic adventure!
Whether you prefer an adrenaline filled bike ride through sparkling aspens or a leisurely walk through golden hills, make the Colorado Springs a stop on your leaf peeping itinerary.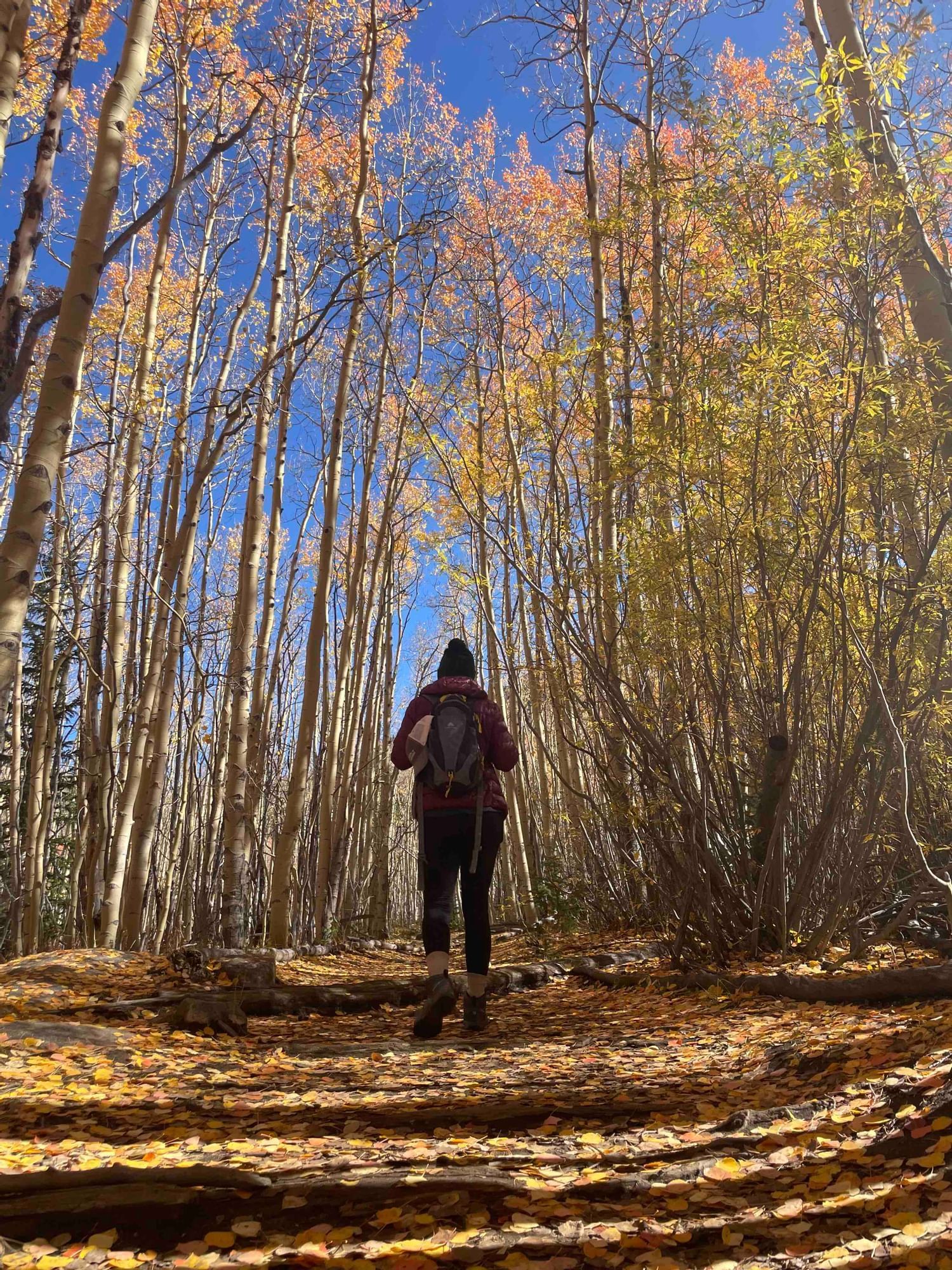 Epic Things to Do in the Fall
Glistening orange and yellow aspens with blue rocky mountains in the background? Get outta here! If you're visiting Colorado from late-September to mid-October, you've come to the right place. Experiencing Colorado Springs, and the surrounding area, in the fall should definitely be on your bucket list.
Luckily for us, Kinship is in close proximity to tons of epic fall adventures around Colorado. From old ghost towns to gorgeous hikes, take advantage of the gold rush when visiting Colorado Springs.
Want to give it your all and make your trip even more epic? We've got you, friend. Book any room from now through the end of November with code "FALLTRAVEL2022" for a discount!
Sunwater Spa
Prepare for the ultimate form of relaxation! Year-round cedar soaking tubs in the heart of Manitou, SunWater's natural hot tubs use natural Manitou mineral-water. Take in views of Pikes Peak and the changing fall colors as you rest and relax in your own little oasis.
Distance: 12 minutes from Kinship Landing
Catamount Reservoir - Pikes Peak
Along the Pikes Peak Highway and over 9,200 feet of elevation, view the changing fall colors reflecting on a blue reservoir. Fly fishing, hiking and mountain biking trails are all around for all types of explorers.
Distance: 40 minutes from Kinship Landing
Devil's Head Lookout
This mountain leads you to a U.S. Forest Service fire lookout tower in Colorado, staffed by the National Forest Service. Covered by a mix of aspens and pine, this hike has views for days and is only 2.7 miles round trip. Be sure to check trail reports on AllTrails the Forest Service occasionally closes off the road to the trailhead, adding a few additional miles to the hike.
Distance: 1 hour, 20 minutes from Kinship Landing
Abyss Trail to Helm Lake
Get ready to see flowing rivers, quaking aspens, tall pines, and mountain views! The Abyss Trail is an 11.7 mile out-and-back hike (but you don't have to do the whole thing to see gorgeous views) located near Grant, Colorado.
Distance: 2 hours, 3 minutes from Kinship Landing
St. Elmo Ghost Town
Rumor has it that St. Elmo's population rode the last train out of town and never came back. Can you say ⁠⁠spooky season?!
The old and abandoned ghost town, St. Elmo, is a great day trip from Kinship for those looking for those little hidden gems near Colorado Springs, and maybe a bone chilling experience.⁠⁠
There are 43 buildings still standing - a saloon, courthouse, jail, mercantile, private homes, and even a general store - that are open to the public during the summer season.
Distance: 2 hours, 25 minutes from Kinship Landing
—-
Lace up your boots, get your camera ready, and experience all that Colorado has to offer in the fall. When the day is over and you're done exploring, we've got a cozy bed, firepits, and craft cocktails with your name on it.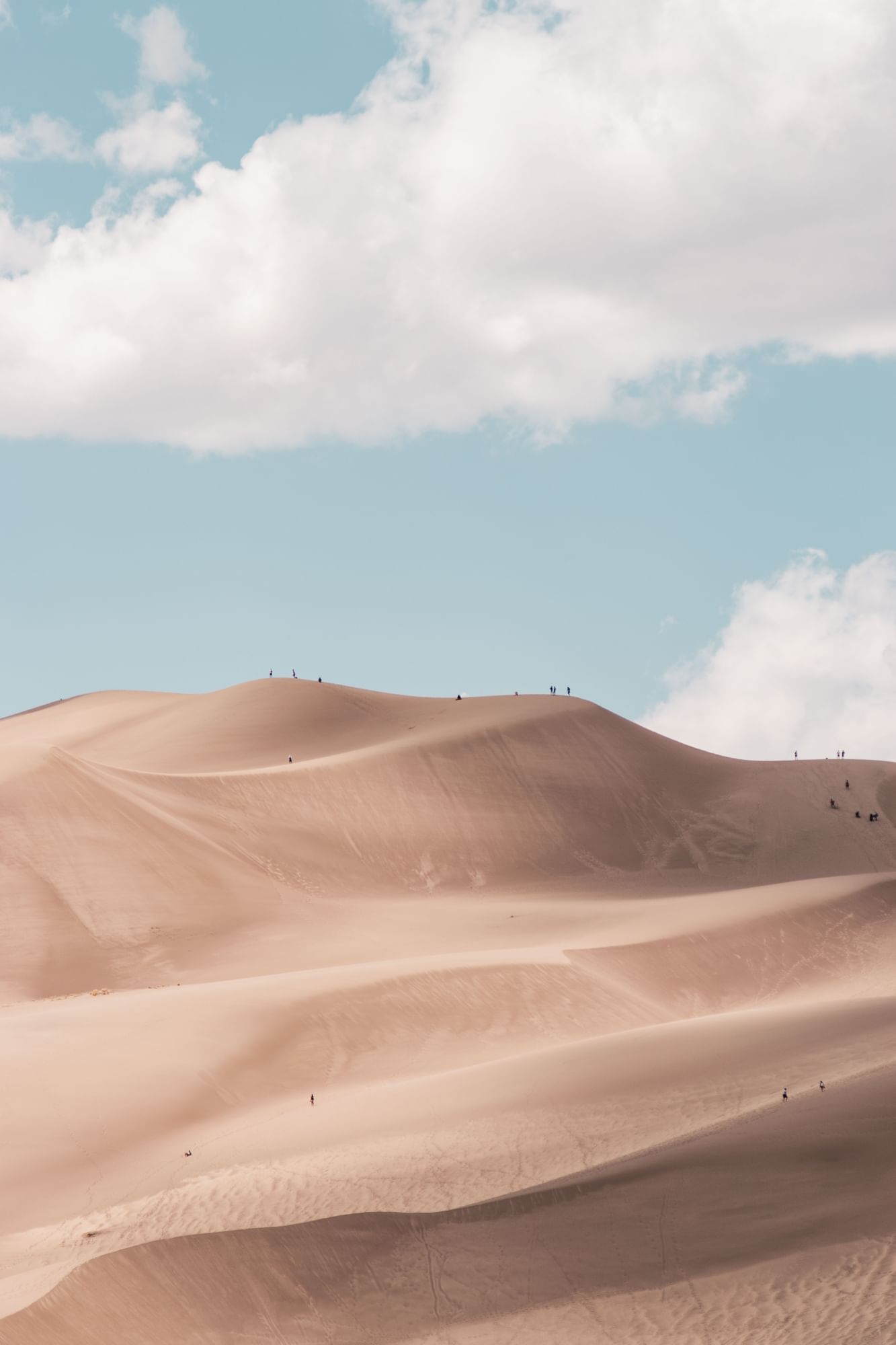 Epic Things to Do in the Summer
There's no shortage of beauty in and around Colorado Springs; shimmering bodies of water, beautiful mountain tops, sand dunes, cascading rock formations and lots of flowing rivers. There are endless options when it comes to hiking, biking, climbing and planning your next epic adventure near Colorado Springs.
Luckily for us, we are in close proximity to tons of hidden gems around Colorado. From white water rafting to surfing down a sand dune, take advantage of the 300 days of sunshine and plan an adventure for you and yours at Kinship Landing.
Want to put everything you've got into your Colorado adventure? We've got you - save money for the memories when you book a shared bunkroom wake up refreshed and hit the trail after a night in a cozy bed.
Great Sand Dunes National Park and Preserve
Think of it as a giant, epic sandbox. With 30 miles of sand, and the tallest dune being 750 feet, you have year-round access to sledding, sandboarding and shredding. Curious where to rent sandboards? Check out these places to rent gear from before heading to the Great Sand Dunes.
Distance: 2 hours, 37 minutes from Kinship Landing
Cliff Jumping at Paradise Cove
Calling all thrill-seekers. Located in Guffey Gorge, Paradise Cove is surrounded by cascading rock formations and trickling waterfalls, where you can jump from the rocks and splash into a vibrant blue swimming hole. Only a mile out-and-back trail, pack a picnic lunch, bathing suit, and plenty of towels (the water is cold!) for a a day-trip to this gorgeous spot.
Distance: 1 hour from Kinship Landing
Lost Lake in Buena Vista
There's no shortage of classic Colorado mountain views during the Lost Lake hike in Buena Vista. Large green meadows and tall pines lead you to an alpine lake encompassed by mountain peaks. The views are absolutely breathtaking!
Distance: 2 hours, 15 minutes from Kinship Landing
River Kayaking in Salida
Experience the Arkansas River by tackling the rushing river by kayak!! Take the easy route, or tackle a few class II rapids. Whatever you decide, there are plenty of guided tours to help you get set up and situated for a fun day on the river.
Distance: 2 hours, 15 minutes to Salida from Kinship Landing
White Water Raft in Royal Gorge
Pretty sure a smile won't leave your face the whole time you're white water rafting. Experience the canyon from an inflatable boat! You can choose your level of adventure: from expert, heart-pounding rapids to a family-friendly float, we definitely recommend a guided trip for White Water Rafting. We love our friends at Raft Echo!
Distance: 1 hour from Kinship Landing
—--
When the day is over and the exploring is done, we have a cozy bed, mountain views and we're surrounded by all kinds of nightlife activities for you to make new friends & swap stories with when you return.
**Some of these activities are only for experienced adventurers. We recommend doing your research and planning a guided experience with trained professionals. Always keep leave no trace principles in mind when exploring.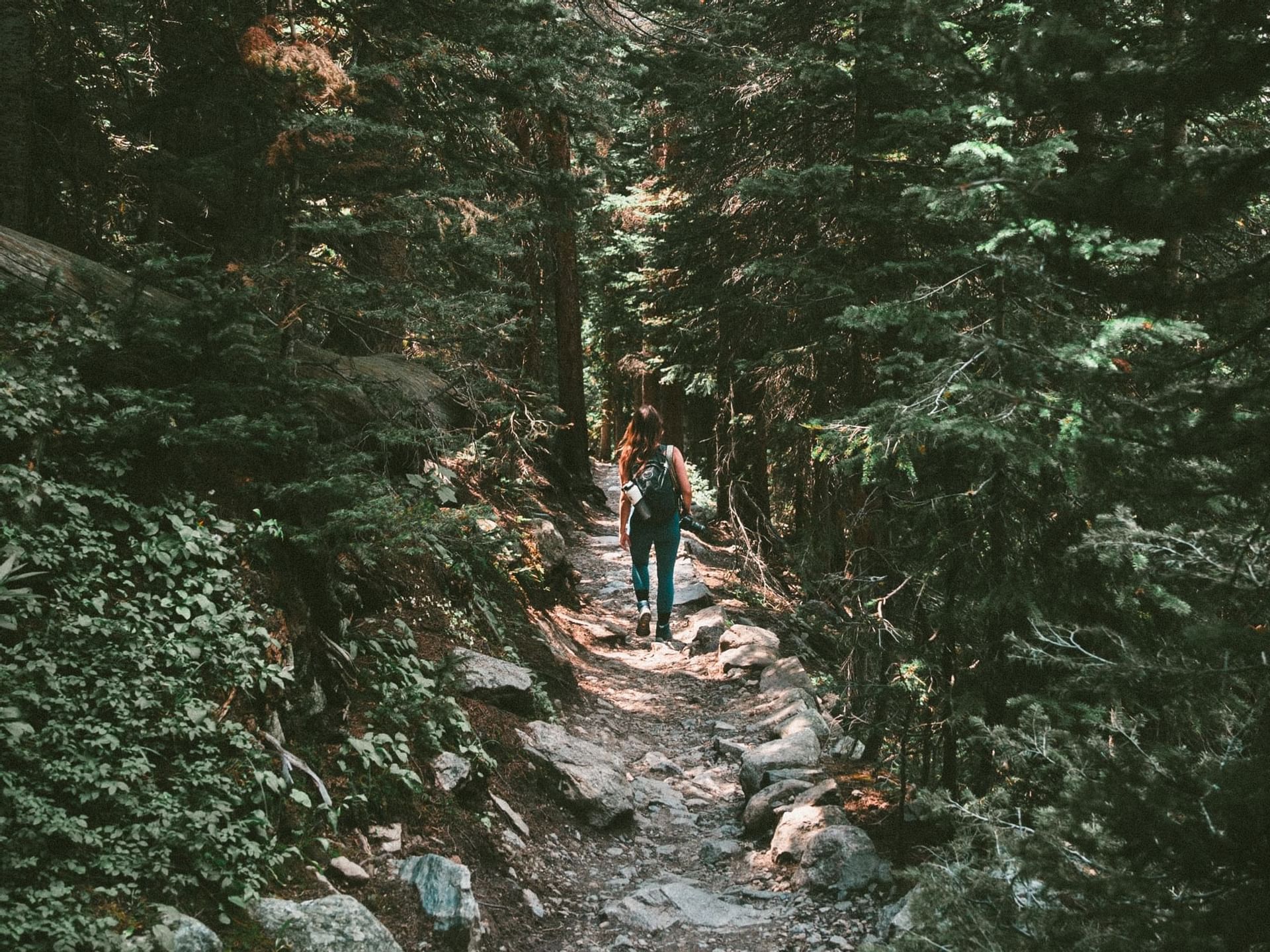 Hiking & Running
From 35-mile ultra style runs with tons of vertical gain and single-track switchbacks, to a quarter-mile stroll around gorgeous rock features, using your legs (or chair on some trails) is accessible and rewarding.
Garden of the Gods
For runners, the 6-mile loop around the park is a perfect early morning start. For those just wanting to breathe fresh air and take in the view, wheelchair friendly path weave through gorgeous and impressive sandstone features.
Pulpit Rock
Trail runners looking for mild elevation gain and a unique trail are sure to love Pulpit Rock. The top features sweeping views of the city below.
Rampart Reservoir
There are tons of activities to do at Rampart Reservoir including running, hiking, boating, fishing, and biking.
The Manitou Incline
Looking for a challenging and unique workout? The Manitou Incline gains nearly 2,000 feet of elevation over less than 1 mile! One of the most difficult hikes in the US, make sure you're acclimated to the altitude before conquering this hike.
Section 16
Section 16's 5.7 miles feature 360 degree mountain views, wild flowers (in the summer), and a steady incline. This trail is rated moderate to difficult.
Cheyenne Mountain State park
This State Park is perfect for you to lace up your sneakers and hit the trail. With 28 miles of trails, there's something for everyone.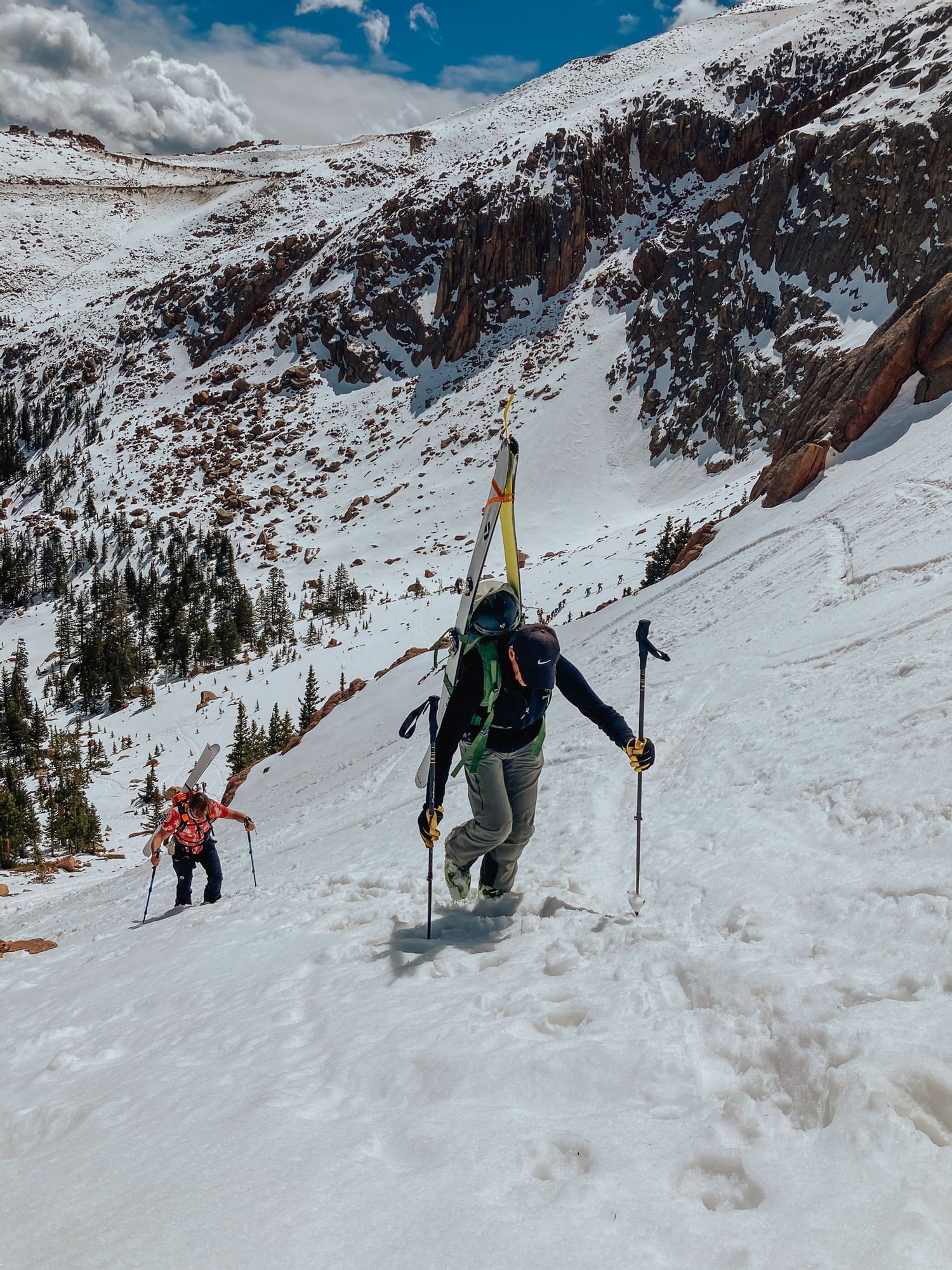 Winter Outdoor Adventure
Just because the temperature drops in Colorado Springs does not mean you can't hit the trails in the winter. From heart-pumping alpine skiing to a relaxing stoll in Garden of the Gods, grab your skis or sneakers and take in 360 degree views of the frosted mountain tops.
Alpine Skiing
Who says we don't have skiing in the heart of Colorado Springs?! Pikes Peak is a great place for any and all adrenaline seekers.
Take in 360 degree mountain views as you glide down a smooth spread of fresh snow between tall pines, or plunge into open chutes and bowls - best accessed in late winter to spring!
We recommend a guided experience with Pikes Peak Alpine School, who are trained professionals that will deliver the best & safest experience! As always, keep leave no trace principals in mind when shredding.
Snowshoeing
One of the best ways to experience the winter in the Pikes Peak region, Rampart Range one of the best places to gear up and get out. Take Rampart Resevoir or Rainbow Gulch.
New to snowshoeing? We love Mountain Chalet or Mountain Equipment Recyclers for equipment and tips.
Cross Country Skiing
Take the route less traveled and weave in and out of tall pines and into blankets of snow. Mueller State Park is a great place to rack up the skis, hit the trails and discover Pikes Peak winter wonderland.
Hiking
There's no shortage of winter hikes in the Pikes Peak region. From casual strolls to longer, more intense hikes, here are a few of our favorites:
The Manitou Incline - one of the most difficult hikes in Colorado, gain nearly 2,000 ft in elevation in just one mile.

Garden of the Gods - snow dusts cascading rock formations in this popular region park.

The Crags - pass aspens, red rocks, creeks, tall pines and more during this 5 mile easy round trip.

Section 16 - featuring 360 mountain views and a steady incline, this trail is rated moderate to difficult.
Flyfishing
Enjoy a less popular time to fish with nothing but you, fresh mountain air and the sound of a streaming creek. Cool temps allow for amazing trout fishing. One of our favorite spots? Eleven Mile Canyon.
----
Quiet trails, crisp mountain air and a hard-earned beer is what winter in Colorado Springs is all about. We are so lucky to have the mountains so close to us.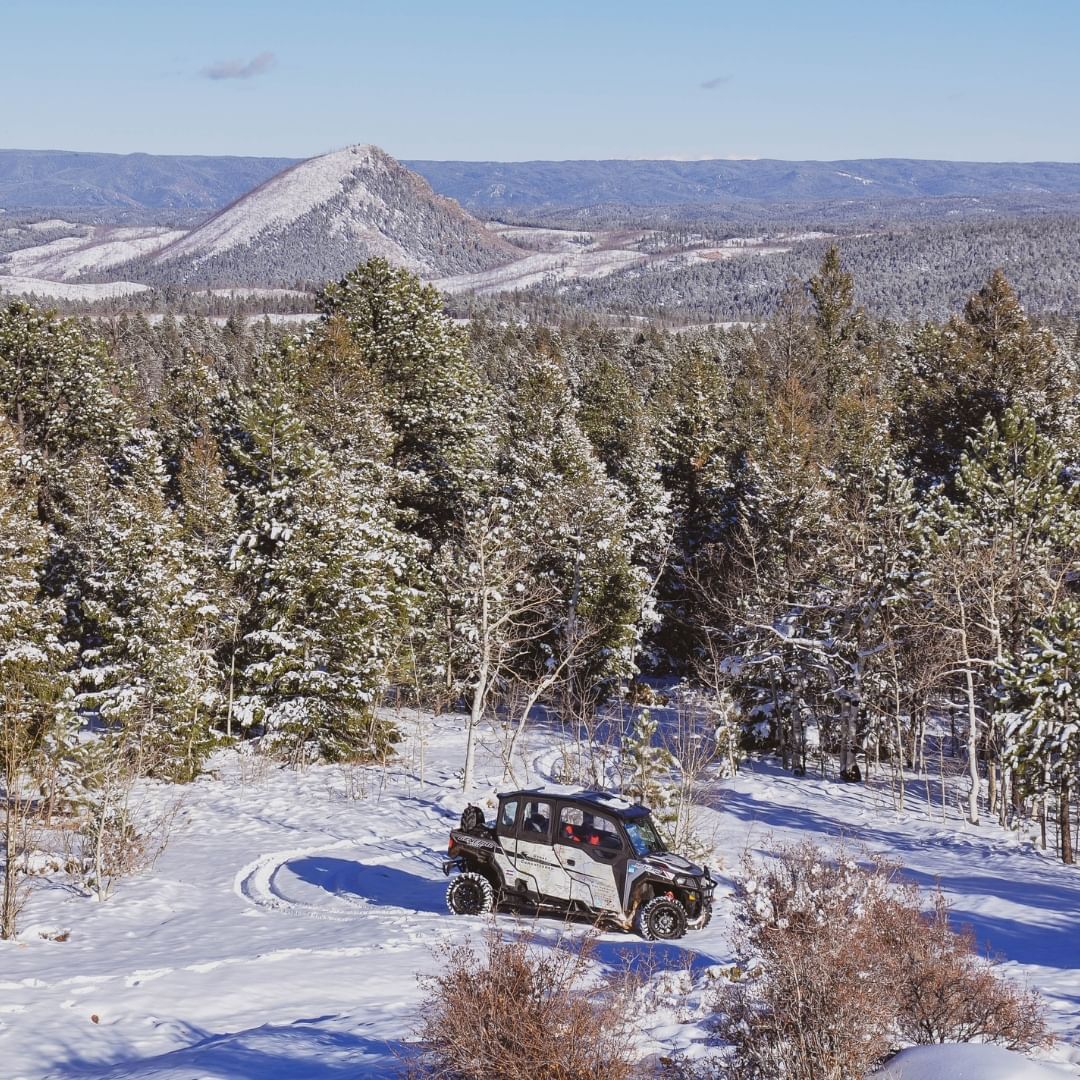 Epic Things to Do for the Holidays
Ditch the mall Santa and get in the holiday spirit embarking on thrill-seeking adventures! Whether you want to listen to Christmas carols while off roading or would rather get lost in a winter wonderland with a pack of huskies, Colorado is nothing short of epic.
Off Roading Christmas Adventure
Your off-roading adventure starts with an adrenaline-pumping snowtrail ride, followed by a comfy cup of hot chocolate. All polaris vehicles are heated, have a warm blanket for your comfort, and play Christmas music. Can you imagine a better way to enjoy the Colorado winter wonderland? Check out Great Outdoors Adventures here.
Dog Sledding
We would pick reliable pups over reindeer anyday! This unique and thrilling experience could very well be the highlight of your holiday season. Wind through trails by sled in the Swan River Valley, as a pack of huskies lead the way.
Snowshoeing
Celebrate the holidays by snowshoeing in the mountains! Take the route less traveled and find yourself wandering through the tall pines and into blankets of snow. Our recommendation? Mueller State Park is a great place to hit the trails! Blast the holiday tunes, grab some gloves, and pack a thermos of hot cocoa for ultimate holiday explorer vibes.
Christmas by Train
The Santa Express Train weaves through the Royal Gorge and is sure to spark all the holiday nostalgia. This Christmas-themed ride includes holiday music, hot cocoa, Santa Claus, and lots of Christmas lights to keep the trip merry and bright.
Colorado Vertical
Feeling wild? Experience the holidays from a birds eye view! Take a cozy, heated helicopter ride through Colorado Springs to take in the Christmas lights and mountain views.
--------
Want to make your trip even more epic? Use code HOLIDAY2022 for 10% off the lowest rates of the season when booking 2 or more nights from Nov 1 - Dec 29!