About Our Boutique Downtown Colorado Springs Hotel
Inspiring Lodging, A Curated Experience & A Connection to the Best of the Pikes Peak Region
When you travel, sometimes it just clicks. You find yourself meeting up with locals who show you a real experience; an authentic encounter with a place that is home to real people. These moments of sharing insights are the times when ownership is transferred, and this new place becomes yours as much as it is ours.
We built Kinship Landing for this experience. Hospitality that turns strangers into friends; friends into family.
Started and run by locals, Kinship is your guide to get the most out of your visit to Colorado. From the don't-miss hotspots to the hidden gems, we are here to help you find the best of our city.
We've created a cozy and unique space for you to not only sleep like a champ and make new friends, but to plan and launch your adventure. And when the day is turning golden, we can be the place to land and relive the stories of your day.
Our team has worked with our local creative community of architects, designers, artists, restauranteurs, and craftspeople who've poured their heart and soul into every last detail at Kinship.
We hope you feel the difference.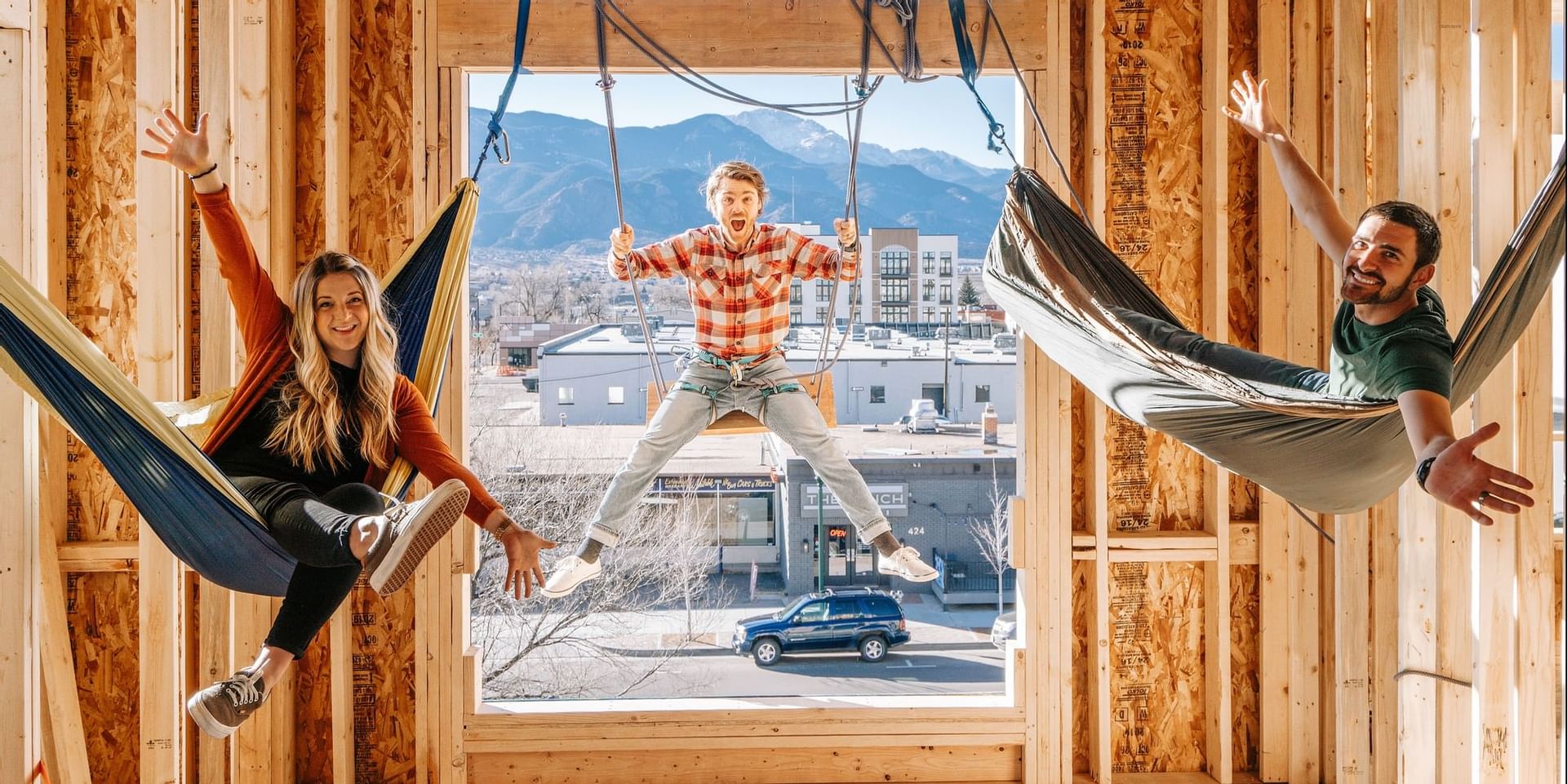 Our story began with friendship and adventure. After extended time traveling the world to dozens of countries, sinking our teeth deep into our local community, making lifelong friends, and recognizing a global need for intentional, authentic hospitality, the founding team of three friends landed back home in Colorado Springs with a clear vision: create an awesome place to sleep and the easiest way to find friendship and adventure in Colorado Springs.

Through a values-driven start-up, we are creating a community-powered accommodation concept with courage, trust, adventure, generosity, and community at the helm. Our first endeavor in Colorado Springs is a friendly boutique hotel in the heart of downtown called Kinship Landing, the very first of its kind.
Here, locals and travelers connect to the best of the region's outdoor and cultural resources. We've found that having a place to launch from and land at makes all the difference. Our future vision: a worldwide network of different hospitality concepts, each cherished by the local community and contributing to the global family.
We've all experienced outrageous hospitality at some point -- it fills you with a sense of belonging, friendship, and trust. You're not going to find it in just anywhere. At Kinship Landing, down-to-earth hospitality provides just what you are hoping for in a place to stay.

You're part of the family. Land here.
OUR VALUES
We make every decision and live every action through the lens of our values. From design decisions to staff recruitment and training, these values are our compass. We aspire to multiply them in the world and hope you carry them out the door with you when you say, "see ya again soon" at checkout.
We genuinely hope that everyone who comes in our doors feels free—free to relax, free to explore, free to dream and plan an exciting Colorado adventure, free to be themselves and feel right at home.