Eat, See, Do
Places to Eat, Drink and Do in Downtown Colorado Springs
There are a ton of coffee shops, cocktail joints, places to grab a bite, and entertainment within just a few blocks of Kinship! Grab your buddies and swing by one of our favorite hot spots!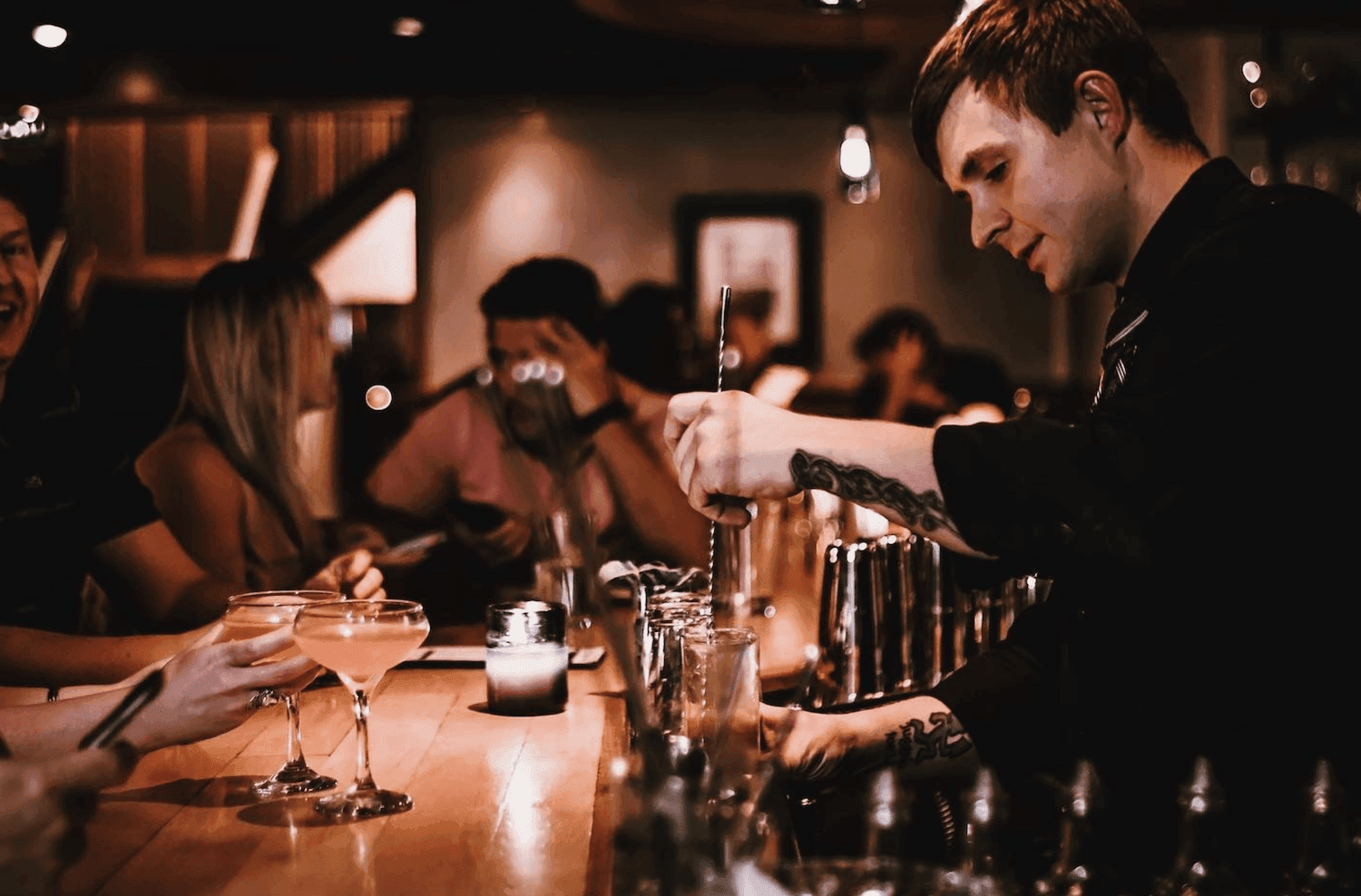 Hidden Gems in Colorado Springs
Off the beaten path speakeasies
Looking for a different type of "off the beaten path" experience? Trade in your hiking boots for a coupe glass and experience Colorado Springs' speakeasies.
It's no wonder that Colorado Springs has so many hidden gems. Founder of Colorado Springs, Civil War hero William J Palmer, outlawed saloons, gambling, and alcohol, resulting in hidden trap doors and rebellious behavior.
From a men's haberdashery to underground subway steps, experience Colorado Springs' history - with a cocktail in hand.
Take the subway steps down to the rabbit hole and be immersed in Alice in Wonderland vibes with delicious wine, cuisine and cocktails.
Address: 101 N Tejon Street
How to Find: Look for the subway entrance on N Tejon Street and follow the steps down the rabbit hole.
Suggested Cocktail: The famous "White Rabbit"
You won't find any clothing in this gin joint, disguised as a men's haberdashery. An all gin speakeasy, Brooklyn's on Boulder has strong cocktails, a swanky atmosphere, and an extensive menu. At full capacity? The person on the other side of the door will collect your number, give you the secret word, and text you the password once your table is ready.
Address: 110 E Boulder Street
How to Find: Located to the left of Ohana Kava Bar, look for the little entrance to the men's haberdashery. Make sure to exit out the back alley when departing!
Suggested Cocktail: You can never go wrong with an OG Gimlet
Located behind a safe in Mood Tapas Bar, walk into a moody maximalist ambiance with craft cocktails and an extensive selection of whiskeys.
Address: 216 N Tejon Street
How to Find: Through Mood Tapas Bar, or the alley door!
Suggested Cocktail: Rabbit's Foot
This alley way retreat has a long history of housing speakeasys. If there wasn't a neon sign, you wouldn't know this was a bar. Blending into an alley wall, Shame and Regret features 90 American whiskeys, 90 scotch whiskeys and bold craft cocktails.
Address: 15 E Bijou Street, Suite C
How to Find: Find the alley on Bijou street and look for the neon sign!
Suggested Cocktail: The Prenup
In the back of the Dice Guys Game Store, Fifty Niner has a 200 game library, craft cocktails, small bites and is a nod to the gold mining history in Colorado Springs.
Address: 2409 W Colorado Ave
How to Find: Behind the Dice Guys Game Store!
Suggested Cocktail: The 59er features an edible gold flake. Worth it.
Get ready for a fun experience! This hidden gem is a revolving pop up concept, featuring themes such as Disney, Harry Potter, Alice and Wonderland, and more.
Address: 323 N Tejon Street
How to Find: Located behind Rooster's House of Ramen.
Suggested Cocktail: Definitely a themed drink!
Founded by a group of hospitality professionals, this underground cocktail bar features late-night food and classic/modern cocktails.
Address: 15 S Tejon Street
How to Find: Located downstairs inside of Colorado Craft.
Suggested Cocktail: A Martini definitely fits the underground vibe.
--------
Transport back in time and raise a glass to our prohibition past! These mysterious Colorado Springs speakeasies provide an off-the-beaten-path experience and will be sure to make you feel mischievous and rebellious.
Photo: Brooklyn's on Boulder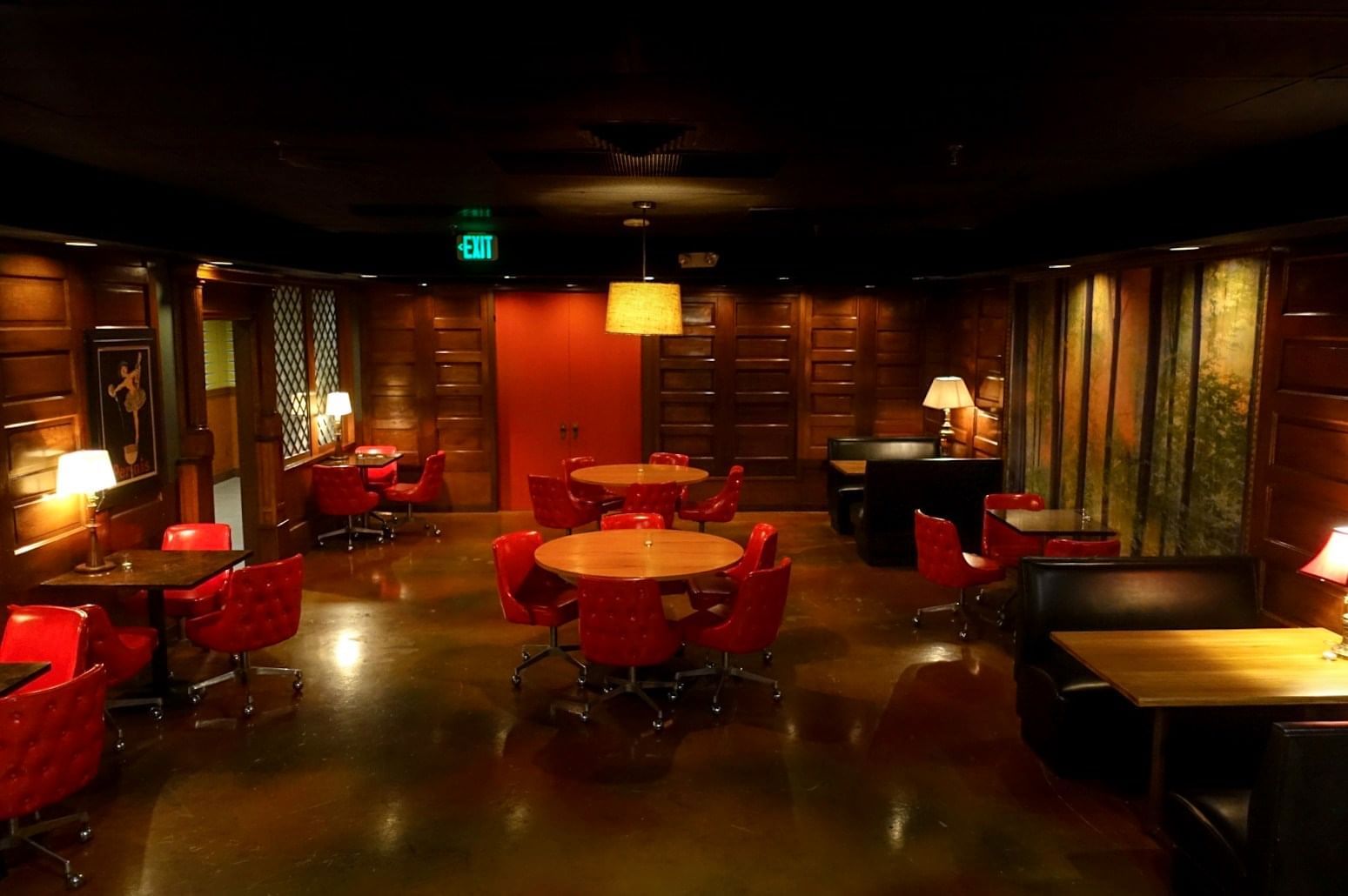 Entertainment in COS
THEATERS, LIVE MUSIC, ART CLASSES AND MORE
October is arts month! Downtown Colorado Springs is exploding with lots of different entertainment options. From live music to performing arts, we aren't just known for our outdoor recreation! When the weather starts to cool down, Colorado Springs has indoor entertainment for all to enjoy, including weekly live music, comedy shows, art classes, cooking classes and more.
Arts month elevates the amazing arts & culture scene we have across Colorado Springs. We encourage you to partake in one new cultural experience with a friend this month, and celebrate with us. Learn more about arts month here.
Live Music Venues
Boot Barn Hall
Country and bluegrass lovers, rejoice! This 15,000 square foot venue features international, national, regional, and local musicians in a barn-style auditorium.
The Black Sheep
An intimate venue meets a "punk rock" vibe on the east side of the city. The venue has hosted everyone from Imagine Dragons to local Colorado Springs bands.
Lulu's Downstairs
Located in Old Colorado City, Lulu's is your go-to spot for cocktails, beer and music. With two bars and two venues, there's plenty of entertainment to enjoy here.
ICONS
A LGBTQIA+ piano bar downtown, ICONS features a staff of professional singers, so there's always performances going on. Their weekly events span from musical movie nights to piano sing-a-long nights.
Performing Arts
ENT Center for the Arts
Part of the University of Colorado, Colorado Springs, ENT Center for the Arts has a wide variety of plays and performances by local students.
Pikes Peak Center for the Performing Arts
The Pikes Peak Center is a concert venue in Colorado Springs that hosts everything from cultural performances to Broadway shows.
Fine Arts Center
This museum at Colorado College provides local exhibits, as well as many monthly theater happenings.
Comedy Shows
3 E's Comedy Club
Less than a half mile from Kinship, 3 E's Comedy Club hosts national and local comedians, open mic nights, and improv.
Art Classes
Cottonwood Center for the Arts
Cottonwood has a variety of classes such as pottery, painting, watercolor, digital art, and writing - all offered at an adult or youth level.
Painting with a Twist
Painting with a Twist offers a unique experience where you're able to sip on wine and paint your own masterpiece - no artistic skills required!
Cooking Classes
Gather Food Studio & Spice Shop
Located in Old Colorado City, gather with your friends and family and make a meal around the table with other like-minded folks.
The French Kitchen
This local bakery also provides individual adult cooking classes, kids' skills classes, and private events.
First Friday
Every first Friday of the month, dozens of venues host local artists and musicians from 5-9pm for a night-full of fun. We are one of these venues, and feel so lucky to be a landing spot for it! Want to see who else is participating in First Friday? Click here!
—--
We are so grateful for our amazing local artists in Colorado Springs. Art is such an important part of Kinship culture - we hope it inspires you when you land here.✨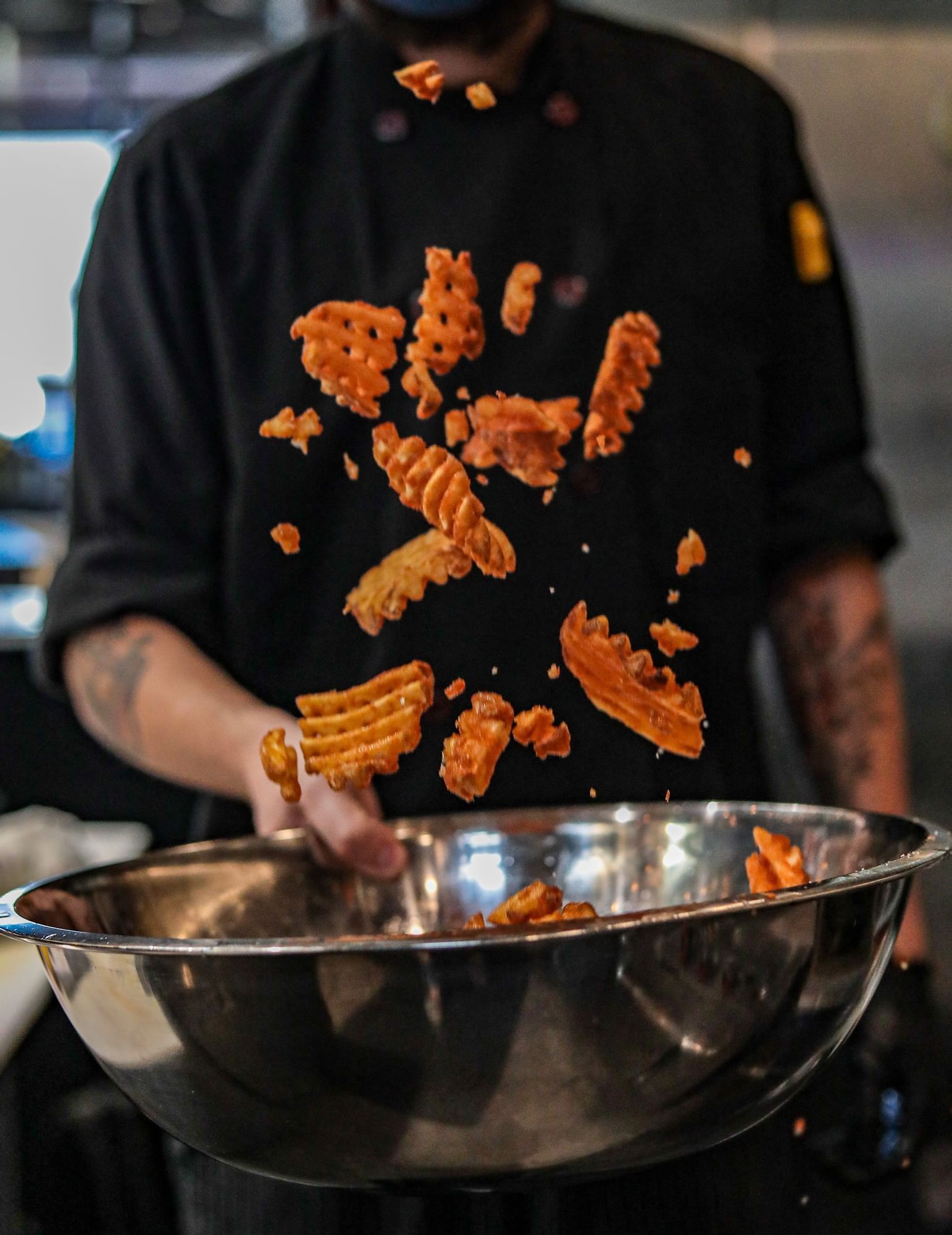 Eats Near Kinship
There are a ton of coffee shops, cocktail joints and places to grab a bite within just a few blocks of Kinship! Grab your buddies and swing by one of our favorite hot spots:

Loyal Coffee - 2-minute walk
Loyal Coffee is a barista-owned and operated specialty coffee company based in Colorado Springs, Colorado. They roast and brew coffee they love, for people they love, in the city they love.
COATI - 5-minute walk
COATI is an event and experience venue in Colorado Springs. The industrial-styled building houses 7 independently owned culinary incubator pods which house some of the city's best up-and-coming chefs. The space also hosts weekly live music, yoga and other eclectic events.
Cerberus Brewing Company - 7-minute bike ride
A great Brewpub located just west of downtown Colorado Springs, CO. The brewery offers fun twists on traditional pub food with 24 taps. Plenty of Cerberus beer on tap, along with occasional guest taps and house-made sodas. Cerberus also has a huge patio, great for pups and yard games.

Historic Old Colorado City - 17-minute bike ride
Affectionately referred to as "OCC" by the locals, this charming neighborhood of Colorado Springs features locally-owned shops, restaurants and galleries.

Make it a bike tour! Rent a bike at the PikeRide Station in front of Loyal Coffee and curate your very own food & beverage tour of Downtown & OCC! Open the route in Google Maps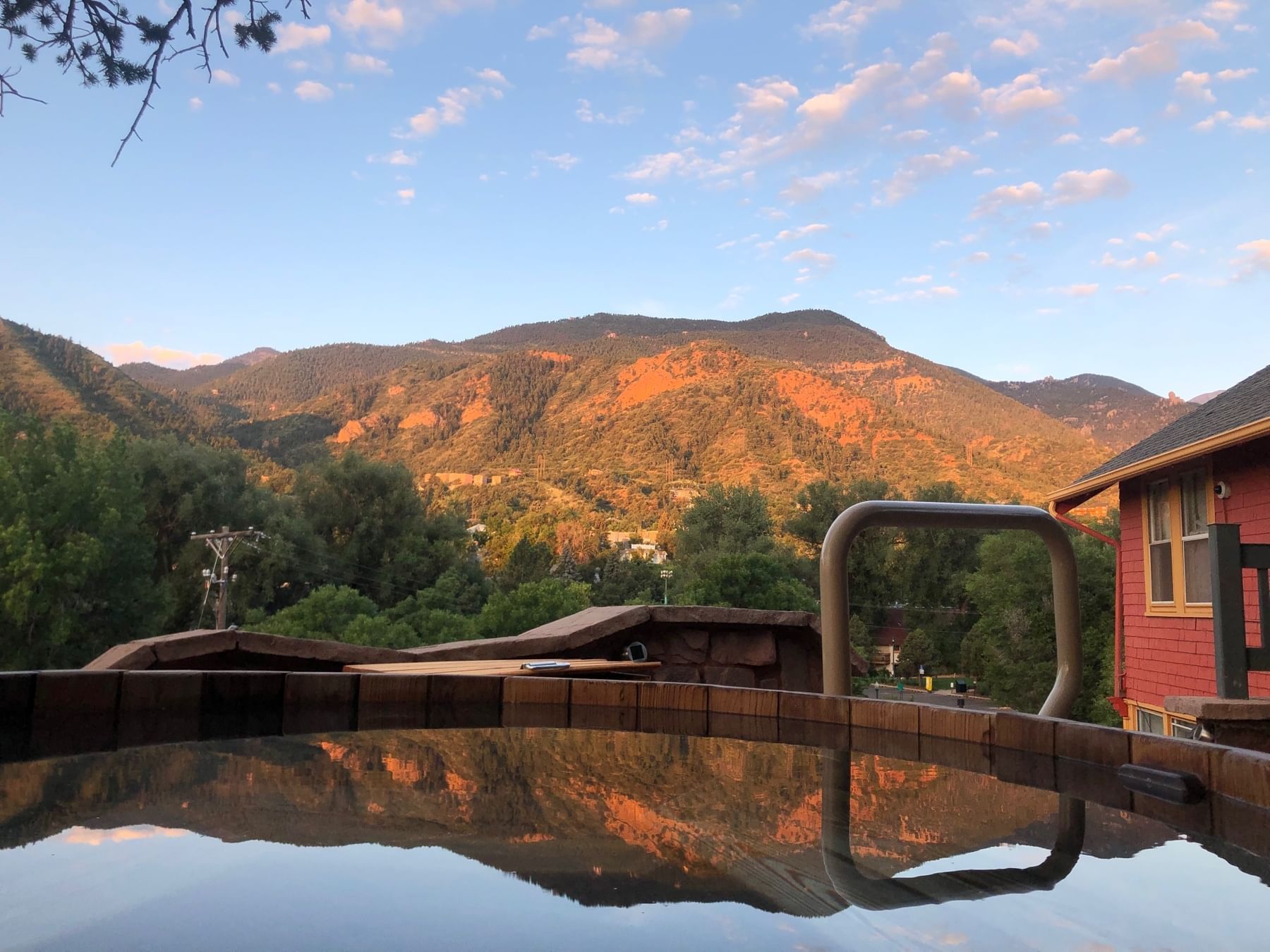 Relax in COS
A Colorado Springs Reset
POV: Waking up in Downtown Colorado Springs' best boutique hotel, on a Tuft & Needle mattress, a hot cup of brewed Switchback coffee in hand and a beautiful city sunrise. Take a deep breath. You've landed at Kinship. It's time to take a moment to yourself.
January is always a time to bring in the new and focus a little more on yourself. Luckily there is no shortage of wellness to be had on a trip to Colorado Springs. Breathe in the fresh mountain air as you unwind and relax at one of these unique experiences:
SunWater Spa -
Year-round cedar soaking tubs in the heart of Manitou Springs, SunWater's natural hot tubs use natural Manitou mineral-water. Take in views of Pikes Peak and the Front Range mountain views as you rest and relax in your own little oasis.
Daily Walks -
Garden of the Gods is absolutely stunning in the winter. Wind through red rock formations dusted in snow. We also love Mueller State Park, outside of Woodland Park, CO as there are a ton of trails that range from easy-peasy to heart pumpers.
Yoga in The Springs -
Warm up and find your inner calm while building strength and endurance at a yoga class. Cambio Yoga, a donation based yoga studio just outside of downtown Colorado Springs, and Hot Asana provide hot yoga classes to warm you up during those cold January days. Root Center for Yoga is a space dedicated to community and spiritual practices. Take in the frosted Rocky Mountains on their outdoor patio after class.
Massage
A spa day is always a good idea. Let Mateos Day Spa, near Ute Valley Park & other Colorado Springs Gems, take care of you with a massage, nail service, facial or spa package.
Book a Suite & Take a Bath
Suites are the sweetest way to stay at Kinship. Take coziness to the next level in our uniquely designed rooms, styled with boutique art and textiles, all with beautiful Colorado Springs sunrise or inspiring sunset mountain views and access to that crisp mountain air. All suites at Kinship come with a deep bathtub and a warm fireplace for the ultimate zen.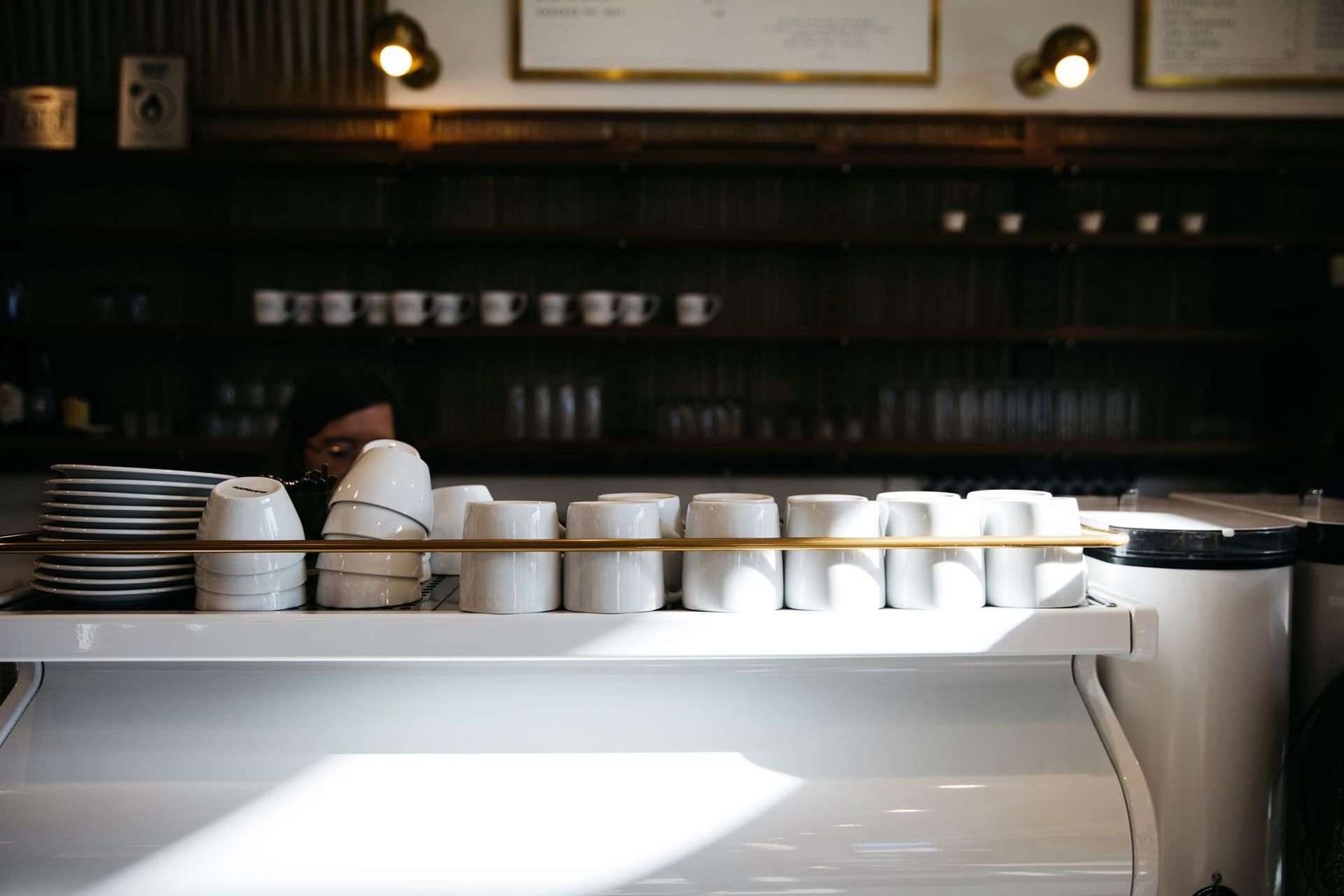 Go-To Spots for the Coffee Enthusiast
Homa has amazing coffee and iced oat milk draft lattes from Hold Fast Coffee Co., a local roastery in Colorado Springs. But sometimes you just need a fancy latte with whipped cream, or a creamy cappuccino - we get it! There are plenty of coffee shops that we adore near Kinship Landing to tickle your inner coffee enthusiast.
Distance from Kinship Landing: 486 feet
What to get: Horchata or Cappuccino and any of their toasts
Distance from Kinship Landing: 0.2 miles
What to get: Coffee flight or cubano and anything from their baked goods shelf
Distance from Kinship Landing: 0.5 miles
What to get: Brown sugar latte and a breakfast burrito or sandwich
Distance from Kinship Landing: 0.7 miles
What to get: Vanilla latte and go on Tuesdays for their pop tart tuesday!
Distance from Kinship Landing: 0.8 miles
What to get: Macchiato or Iced Latte and the Wake n Bacon sandwich
Distance from Kinship Landing: 1.5 miles
What to get: Matcha or 50/50 and their avocado toast
Distance from Kinship Landing: 0.9 miles
What to get: House made chai or latte and a bacon breakfast burrito
We love helping people find those hidden gems or don't-miss hotspots. We are so lucky to have our little spot in Downtown Colorado Springs and share space with such talenten baristas.