Experience Colorado Springs like a local
Kinship is Your Guide
It makes a difference landing in a place where you know a friend. Consider us your personal insider guide to exploring the real gems of Colorado Springs. Whether it's hiking, rock climbing or fishing you're after, or you want a taste of the food, arts and culture that are literally steps away from our hotel in downtown Colorado Springs — we'll connect you to an authentic way to experience our city.
Seriously, our favorite thing to do is helping people have an amazing time, and we'll gladly point you in the right direction. Hey, we may even come along with you for the ride!

Inspired by our own travels, we've designed each guest room to be a perfect place to land. Unique, individually styled guest rooms will delight every kind of traveler, all with thoughtfully designed layouts and hand-picked essentials for a great stay. We've made it easy to make yourself comfortable here.
Eat & Drink
Anchoring the public first floor of Kinship Landing is Homa, our craft café and bar. Run by one of our favorite local restauranteurs, it's a spacious space for real connection and great eating and drinking. Here, locals, hotel guests, and old friends can gather safely over small plates and pints, grab a signature handpie (or three) after a hike, or snag a drink before a show.
Homa features wholesome bowls, delicious sandwiches, and housemade handpies. We took fresh, locally sourced ingredients and combined them with our favorite types of cuisine from around the world to offer hearty food to fuel your adventures. And don't forget, a curated bar menu showcasing the best of our local craft cocktails, beer, and coffee community is there for you from sunrise to late night.
EVENTS + GATHERINGS
Kinship Landing is a unique location for weddings, events and gatherings of all kinds. From our light-filled urban jungle Greenhaus event space, to our custom-made Discovery Table with maps, guides and resources to map out a perfect adventure, you've always got a spot saved for you here.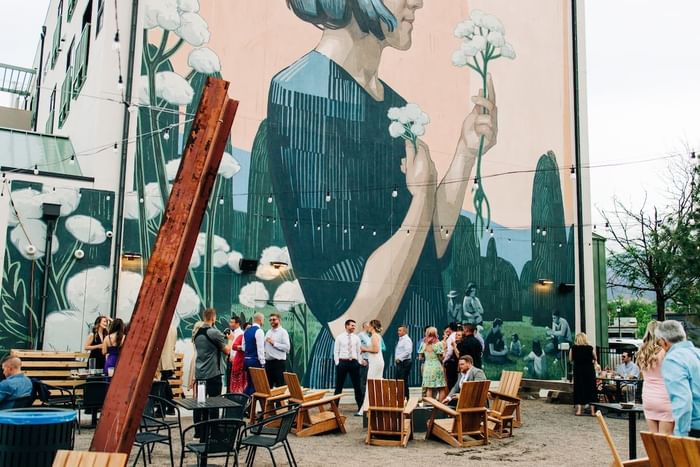 YARD
Looking for an outdoor bash? Our spacious lawn is complete with yard games, shade trees and a whole lotta that sweet Colorado Sunshine. Great for receptions, corporate events, laid back get-togethers and any other party you're looking to throw!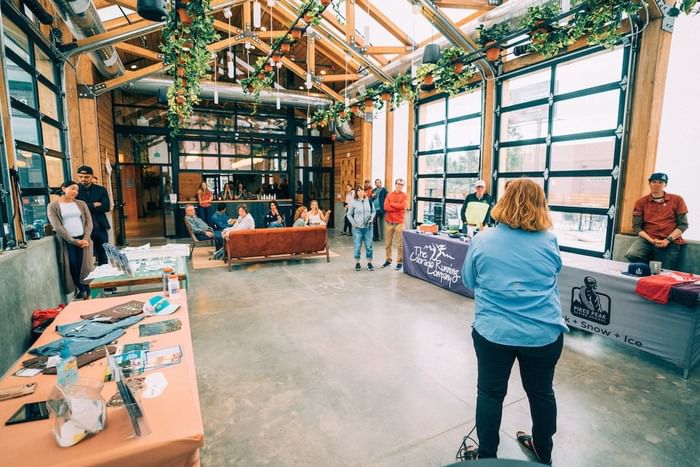 THE GREENHAUS
The Greenhaus at Kinship Landing truly a one-of-a-kind venue in Colorado Springs. A lush greenhouse filled with light is an urban jungle right in the heart of downtown, and a beautiful backdrop for wedding receptions, events, lectures, or your next great gathering.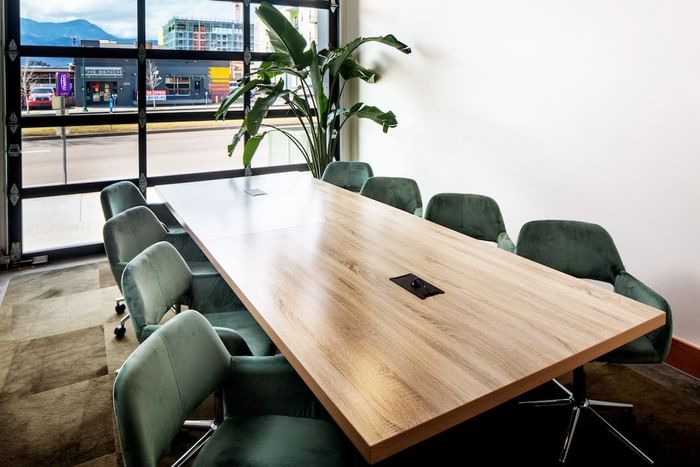 CONFERENCE ROOM
For small meetings, private events and professional gatherings, reserve our conference room. Far from a stuffy conference room, our private meeting room is tucked away on our first floor and designed in our same modern, cozy style. You've also got all the essentials — a large conference table and chairs, flat screen tv, technology hook-up and catering options from our cafe & bar.
I never leave reviews, but my stay at Kinship Landing this weekend was so wonderful I just have to share. The room was beautiful, the bed was comfortable, the food delicious and the service exceptional! I was there for a private event and every part of the experience was top notch. I even hiked after I checked out and was able to store my luggage in a locker and come back to shower before my flight. Thank you so much for such a beautiful experience!
Kinship hotel was fantastic! The pictures & website justify it exactly as it is, which is much appreciated. The vibe of the coffee shop and the entire hotel is great! Exceptionally clean, quiet, and quaint. Adjacent coffee shop/bar/cafe was delicious. Staff were so helpful and kind. I couldn't recommend it more. Near great restaurants in what seemed like an up and coming part of CO springs! Will recommend and stay again if ever in CO springs!
Probably the most top notch millennial experience I have ever had. I was pretty surprised. We booked the room because we were in town and any time we travel we don't usually choose the big chains for an overnight stay. This place really was worth the money, comfortable rooms, great location and don't even get me started on Homa and the general aesthetic of Kinship Landing.
Beautiful place to stay. Everything was so clean, and everyone was so nice and helpful. The room was cozy and comfortable. The accommodations were excellent- they had a tap for either sparkling or flat water! The food and drinks from Homa were delicious. The decor was immaculate. I would stay here a thousand times over again. I wish there were Kinship Landings all over the place to stay at!
Absolutely loved my stay at Kinship Landing. Our room was beautiful & clean. But, the best part to me was We had amazing cocktails, a delicious lunch and the staff was so kind & friendly. If you're looking for a place in Colorado Springs you should definitely stay here- if you can get a room with a view of the mountains even better! Also, I love that it's within walking distance of so many great restaurants.
In my recent travels I stayed at many hotels. This one, was by far the best. Through 4 different states of hotel stay. Over a course of almost a full year. This place was the best. They're advertised pricing, is their pricing. I stayed in the bunk room for a week and it only cost me 390. Beat that. It's very clean, nice, even, ritzy. High end. I've paid over 400 for a week in (an undesirable neighborhood). Here, you're in beautiful downtown Colorado springs. Fine dining and amazing sites all in walking distance. The staff, kind, extremely professional, and very accomodating. Just can't say enough great things about this place. Check it out if you're in town traveling. Or for any reason really. Hands down the best.
I booked a bed in one of the bunk rooms and I am incredibly happy with how my stay went. I felt very safe and had plenty of space to store my stuff. The staff was able to answer all of my questions and was available to help at all times. I loved the environment Kinship Landing has created--I spent a lot of time hanging outside or around the restaurant. I would 100% recommend staying here, and I will be coming back again!
Join the adventure
Follow us on Instagram and sign-up for our newsletter to get the latest updates, local recommendations and special offers (no spam, we promise!)